Phone Support- Perfect Business Partners for small to medium size businesses all across the world.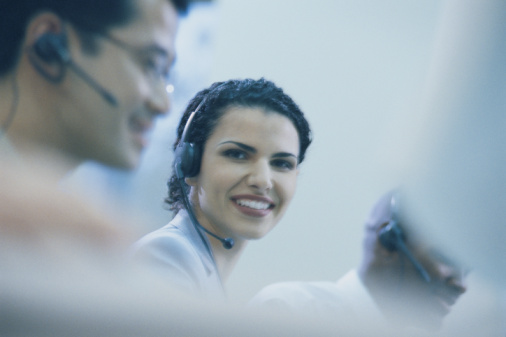 We are experts in providing voice support through web-based software.
It is a high-end telephone system with great features having very low interruptions.
It is user friendly with very inexpensive hardware and low maintenance fee.
We have a team of agents who takes each and every call during their shifts. If ever any call is missed we make sure we call back the customers. We use Click to Call which routes the call automatically to the agents whenever a customer dials a number. As soon as the call is made the request could be seen in the agent's computer pop up and when he takes the call it shows that the call is placed.
It minimizes the wait times, it eliminates the problem of busy signals and long IVR loops. Another feature is Real-time queue placement indicators show wait times which are accurate. The customer knows when the agent will be calling. Additionally, it also allows all overseas customers to speak to our agents absolutely free as there no charge for long-distance calls. It makes the process seamless for the prospects and the agents.
Another great feature that we all look for is where the agents can help the customers while co-browse the websites with them. Our agents can follow your website's visitors while they are online. While being in the call the agents can help the customers navigate the features in the websites, fill any forms if required. And can direct them to the information that they are looking for.
We are providing phone support as well as chat support. Our idea of work is to provide best of the services to our clients. Any high-end prospect could be escalated from chat to phones to give them excellent support.
All our agents are great in their communication skills. Very much detail-oriented. We make sure that they are organized and highly proficient. Before hiring each of them needs to complete a voice proficiency test. We train them before placing them in campaigns. Placing them also depends on your products and business. Additionally, regular training programs are conducted by trainers to increase efficiency and productivity.
We monitor all the calls and chats sent out by the agents. We have a dedicated team of quality experts who are here to check if at all there are any compliance issues. This helps in the overall growth of the agents which increases the quality and productivity of our services.
Transcripts of chats and call recordings of all calls are sent out to you as reports every day to make sure that the questions are answered correctly.
Our Services also include lead generation for small to medium size businesses. Selling to customers is not an easy task, it requires planning, strategy and conclusion. We have our executives who create campaigns for lead generation and telemarketing calls. With regular follow up process, we can generate warm leads and then convert them into sales. No customer will come to your shop automatically. the target audience should be reached with proper funnels. In Option Online World, we have a strong team who has called for many outbound and inbound campaigns, to generate productive leads for our clients all across the globe.
Our phone Support also includes some other list of services.
Such as:
Order processing.
Order and delivery calls for Restaurants and Taxi Services
For any Payment verification.
Third-party verification.
Telemarketing Campaigns and others.